Tuesday, October 25, 2005
the value of...

My blog is worth $6,209.94.
How much is your blog worth?
Saturday, October 15, 2005
"a conversation"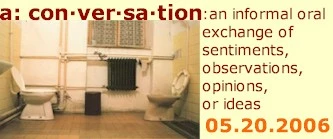 we are in the planning stages at 247connection about hosting a day long learning event [called "a conversation"] for emerging planters, partners and others interested in getting involved in the emerging church. we are praying over the direction and focus of this event. we are planning on a one day event, with labs and breakout sessions dealing with worship, structure [or lack there of], design, servanthood, and other areas we think are needed to help others in this process. we desire it to be practical, informative, connective and supportive.
while we know where God is leading us in this, we also know that we need others to help give us ideas and lift us in prayer. so, i think the question is, "what do you want in such an event?" longer? shorter? connections? a different time? do you have an idea you would like to see expressed at such an event? we have very little set in stone, but we do know we are looking to form a positive conversation with people. we are not looking to bash, or be bashed. we are striving to stay close to Christ, and seek God in all this; our goal is not to tell you what you must do, but rather to share with you our failures and sucesses, our ups and our downs, but mostly to let you know that it can be done - if you have an idea, let us know and we will look into making it happen.
Wednesday, October 12, 2005
[re]understanding prayer - a great book
it has been a long standing "idea" [not into policies] of mine not to write comments on books - i tried to do it on
ginkworld
, but that fell apart quick - because we kept thinking we were "judging" others, so that is not our style. but i have to say, it is books like the one i will share with you that make me break my "long standing idea."
kyle lake emailed me a week or so ago and asked if i would read his new book, and let others know what i thought - kyle lives dangerously, because one never knows what i will think - not even me :) but i have to give kyle props - the book is great, and one i think everyone should read.
the book is called "[
re]understanding prayer; a fresh approach to conversation with God
" and is put out by relevant books - it should be out very soon -
BUY IT
[see, i like it so much it got me to use the cap key :) ]
why do i like the book? not being raised in the church, and having all the baggage that come with being in a youth group - this book expresses pray as a natural conversation with God - not a "follow this pattern" or "do it this way" approach to prayer. kyle "gets it." his idea that prayer is simply talk with God without the dram is refreshing and expressive.
the part that grabbed me the most, and several parts definitely grabbed me and made me think, was the section on "avoiding autopilot." when i read that i was shoved back to my days when i first started in ministry and the senior pastor of the church would spend time looking over my prayers to see if i had "the right words" in them. kyle's approach is to break the "secret language" of the church and simply express a love for God that is real, open and honest.
i think you will get a great deal out of this book, so i am going out on a limb and suggesting you buy it, read it and see how it will effect your prayer life. i know it is helping me figure it all out.